The Best Firewood DVD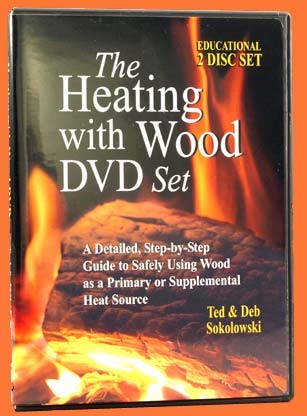 The Best Firewood DVD is called The Heating with Wood DVD Set. I found this DVD while researching firewood videos because I was planning on producing my own educational video.
After watching this DVD, I realized that there was no need to produce my own- This DVD was exactly what I was looking for!
Ted and Deb, the producers of the DVD, have been heating their home with wood for years and show all their secrets in this DVD. This video is packed with information, it's over 2 hours long and is very easy to follow. It is without a doubt the most comprehensive Firewood DVD ever made!
What's Included on the DVD?
Almost every topic that you can imagine that is related to firewood and wood heating is covered in the DVD. Here's the breakdown of each disc:
Disc One - Burning Firewood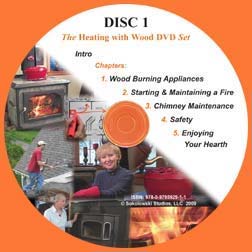 Wood Burning Appliances
Learn which appliance is best for you. All topics are covered including: When to replace your wood stove, the benefits of an EPA certified stove, what size stove to buy and where to install it, and how to improve the efficiency of your fireplace.
Starting and Maintaining a Fire
Learn how to properly operate your wood burning appliance. Tips on what is safe to burn and how to do it efficiently.
Chimney Maintenance
Chimneys are so important and overlooked. Learn to keep your chimney safe and how to clean it yourself.
Safety
All topics are covered including: child safety, carbon monoxide detectors, clearances, fire extinguishers and more!
Enjoying your Hearth
Learn about products that are necessities when using a wood stove or fireplace. Also, find out about some products that can make your experience more enjoyable.
Disc Two- Processing Firewood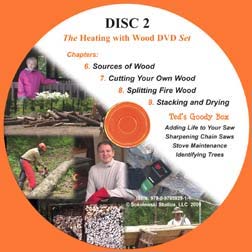 Sources of Wood
Learn where to find firewood and what types are best to burn.
Cutting Wood
All the tools needed to process firewood from an already felled tree are covered. Learn how to use a chainsaw and other tools of the trade.
Splitting Firewood
Learn how to split firewood, both with a log splitter and by hand with a maul or axe. There are many tips here that will save you time and energy.
Stacking and Drying
All important aspects are covered in this chapter. Learn how to build stable firewood stacks and how to tell when your firewood is ready to burn.
Adding life to your chainsaw
Tips to keep your saw running at optimal performance for years to come.
Chainsaw Sharpening
Never cut with a dull chain again! Learn how to sharpen a chainsaw yourself, it's easier than you think.
Stove Maintenance
Wood stove maintenance tips that will keep your stove burning efficiently and safely.
Firewood Identification
24 common firewood species from the northeastern US are profiled.

Order it Today!
Only $35.95
Use the Buy Now button above to purchase this DVD with a credit card or your paypal account. All orders are shipped the next business day.